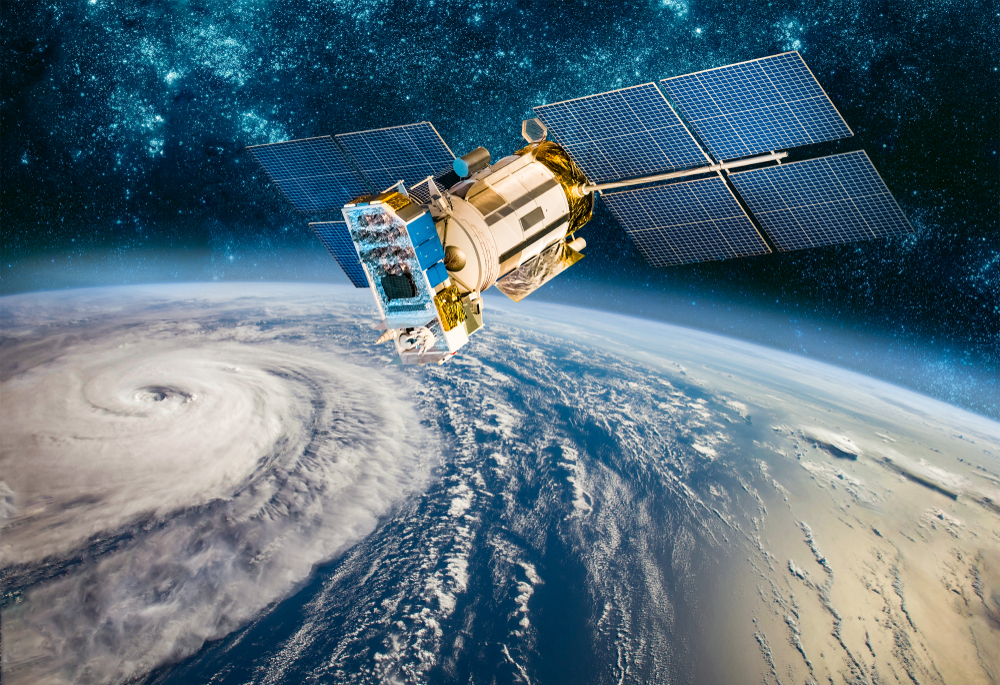 Wildfires, Heatwaves, Volcanos, Floods, and Satellite Companies
As natural disasters increase in frequency and damages inflicted, it is more important than ever to have the proper resources to forecast, monitor, and evaluate potential and past disasters. Satellites have been instrumental in providing information about the time, path, and magnitude of these catastrophes.
Optic imagery 
Satellite imagery is the most used method of tracking extreme weather events. Satellites can monitor the size and direction of hurricanes, wildfires, volcanic ash, and floods. This data is critical to providing impacted residents an opportunity to evacuate or shelter in a timely manner. Unlike older systems, the new satellites can relay images as often as every 30 minutes.
The United States Geological Survey monitors volcanoes in the United States. The National Oceanic and Atmospheric Administration (NOAA) monitors the oceans throughout the world and tracks volcanic ash movement and possible tsunami action. The information is critical for issuing tsunami warnings and air traffic alerts.1
Using a rocket built by Rocket Lab USA Inc.*, NASA has launched small satellites designed to track hurricanes, cyclones, and typhoons. The satellites can provide hourly storm tracking data on rainfall, humidity, and temperature to predict the direction and intensity of storms.2
BlackSky Technology Inc* was recently selected to work with the Government of Aragon in Spain to provide rapid emergency imagery services. The goal is to streamline responses to crisis situations like fires, floods, and other natural disasters.3
Radar technology
Information from optical and radar imaging satellites has been a useful tool in managing floods and wildfires. Radar imaging sensors using flashes of light can capture data through clouds, smoke, and at night. While large, older satellites could only capture images once every 7-14 days, current constellations with smaller satellites can provide more frequent images.
In Australia, the use of radar and optical images has helped oversee recent floods. Optical satellites and radar imaging sensors from Planet Inc* and NASA were able to monitor the size and movement of floods.4
Thermal Technology
As climate change discussions "heat up", many companies are looking to expand into infrared technology also known as thermal technology. This will be a valuable tool for tracking urban heat and wildfires. In addition to wildfire and heatwave applications, thermal technology is being used to provide water scarcity data and data for environmental-monitoring applications.5
Conclusion
In addition to NASA and NOAA, other international organizations are using satellites for climate monitoring. Airbus* Defence and Space unit is a manufacturer of satellites used by the Copernicus climate program for the European Space Agency. Planet Labs* is teaming up with the United Arab Emirates Space Agency to provide climate change resilience information.  Terran Orbital* is part of the Chilean Government's space program developing a satellite to facilitate a rapid response for natural disasters, climate change, and more.6
The Procure Space ETF, UFO:NASDAQ, includes satellite companies helping to identify and monitor extreme weather events. UFO, the world's first pure-play space ETF, contains publicly traded space-related companies from around the globe. More prevalent and severe natural disasters are creating a demand for satellite technology to supply better information to predict and hopefully mitigate the destruction from catastrophic events.
To learn more about the Procure Space ETF, visit www.ProcureETFs.com.
As of August 8th, 2023, Airbus (AIR FP) was a 2.12% holding, BlackSky Technology (BKSY) was a 2.63% holding, Planet Labs (PL) was a 3.31% holding, Rocket Lab (RKLB) was a 5.81% holding, Terran Orbital (LLAP) was a 0.93% holding in the Procure Space ETF (NASDAQ: UFO).
For a complete list of holdings in UFO, visit: https://procureetfs.com/ufo/. Fund holdings and sector allocations are subject to change at any time and should not be considered a recommendation to buy or sell any security. 
Please consider the Funds investment objectives, risks, and charges and expenses carefully before you invest. This and other important information is contained in the Fund's summary prospectus and prospectus, which can be obtained by visiting procureetfs.com. Read carefully before you invest.
Investing involves risk. Principal loss is possible. The Fund is also subject to the following risks: Shares of any ETF are bought and sold at market price (not NAV), may trade at a discount or premium to NAV and are not individually redeemed from the funds. Brokerage commissions will reduce returns. 
Aerospace and defense companies can be significantly affected by government aerospace and defense regulation and spending policies. The exploration of space by private industry and the harvesting of space assets is a business based in future and is witnessing new entrants into the market. Investments in the Fund will be riskier than traditional investments in established industry sectors. The Fund is considered to be concentrated in securities of companies that operate or utilize satellites which are subject to manufacturing delays, launch delays or failures, and operational and environmental risks that could limit their ability to utilize the satellites needed to deliver services to customers. Investing in foreign securities are volatile, harder to price, and less liquid than U.S. securities. Securities of small- and mid-capitalization companies may experience much more price volatility, greater spreads between their bid and ask prices and significantly lower trading volumes than securities issued by large, more established companies. The Fund is not actively managed so it would not take defensive positions in declining markets unless such positions are reflected in the underlying index. Please refer to the summary prospectus for a more detailed explanation of the Funds' principal risks. It is not possible to invest in an index.
UFO is distributed by Quasar Distributors LLC.
__________________________________________
1"When volcanoes roar: protecting the public and tracking long-term climate impacts," research.noaa.gov, January 5,2023.
2"NASA launches two small satellites to track hurricanes", PHYS.org, May 8,2023.
3"Ever-High cadence, Low-Latency Imagery Service for Disaster response", BlackSky.com, April 25,2023.
4"Using satellites for faster flood information", Sciencedaily.com, November 23.2022.
5"Thermal imagery sector heats up", spacenews.com, July 23, 2023.
6"Terran Orbital and ImageSat International (ISI) Prepare for the Launch of the RUNNER-1 Earth Observation Satellite", Finance.yahoo.com, June 8, 2023.